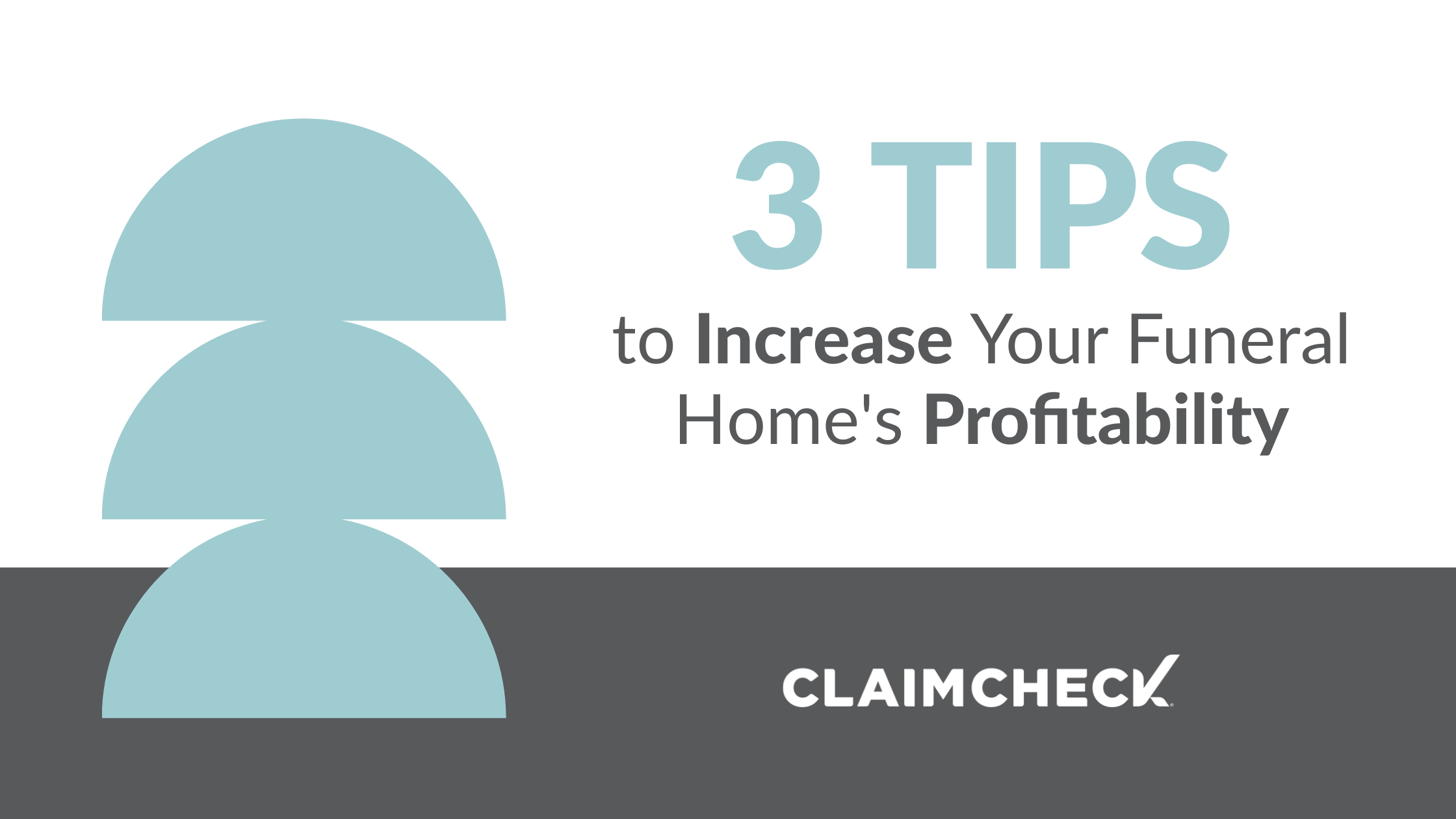 Has your funeral home seen a decrease in profitability over the last few years? If so, you're not alone. Many funeral homes have experienced shrinking at-need call volume, which negatively impacts your bottom line.
A recent study revealed that families' views on funerals are changing. More families choose cost-effective options like direct cremation because they don't believe they can afford a traditional funeral – especially if they have other costs. This belief leaves your funeral home with lower average funeral costs and a decrease in your profitability.
With inflation on the rise, you are probably wondering what you can do to help families who may be struggling financially to still have a healing and meaningful funeral experience. The answer? By using an insurance assignment processing company, you can help families access their life insurance funds immediately after a loss rather than having to wait 6-8 weeks to access their funds.
Here are 3 ways your funeral home can increase profitability by partnering with an insurance assignment processing company, so you never have to wonder if you're leaving money on the table again.
1. Offer insurance assignment services to every family
The first thing you can do to increase your profitability is to offer insurance assignment services to every family you serve. Even if the family isn't sure how they will pay for the funeral, you can offer them advance funeral funding as an option to better serve them and your business.
We've seen funeral homes increase their average at-need case by up to 30% just because the family knows their funds are on the way. That confidence and peace of mind lets families comfortably plan a funeral that honors their loved ones instead of worrying about what is in their bank accounts.
2. Offer to advance additional funds beyond the cost of the funeral
The loss of a loved one can put a significant financial burden on a family. In addition to paying for a funeral, a family may have to find a way to afford immediate expenses like rent or mortgage, credit card payments, travel and lodging, and other living expenses. That's where an insurance assignment processing company can help! Your funeral home can better care for families by offering funds beyond the cost of the funeral to cover these expenses.
Without worry, families can know that the funeral and their upcoming expenses are taken care of. Plus, a family could use the additional funds to preplan their own end-of-life arrangements after planning their loved one's funeral. Talk about a win-win for your at-need and preneed business!
3. Offer insurance assignment services for a fee
Your funeral home can't afford extra expenses and shouldn't give away time-consuming services for free. That's why using an insurance assignment company is a great choice because you can take advantage of this service for free and save valuable staff time! All you have to do is simply pass the service fee on to the family.
When you pass on the fee, your funeral home can offer a valuable service to families at no additional cost in time or resources to you. Your funeral home can avoid taking on an additional cost, your staff won't have to spend hours filling out claims paperwork and waiting on hold with insurance companies, and your families will receive peace of mind knowing their funds will be deposited in a matter of days.
It's a win for everyone!
Find the right insurance assignment processing company today
We've witnessed many funeral homes adopt these 3 steps, and each has seen increased profitability while averaging the same number of at-need cases. They've also benefited from repeat business and referrals from happy families, which is the biggest benefit of all.
Don't let your funeral home's finances take a hit because of shrinking at-need average funeral costs. Find the right insurance assignment services partner – like CLAIMCHECK – to start improving your funeral home's bottom line with every family served.
Best of all, working with CLAIMCHECK is easier than ever, and any funeral home can do it.
To learn more about how CLAIMCHECK can help your funeral home, visit www.claimchecknow.com/funeral-funding.