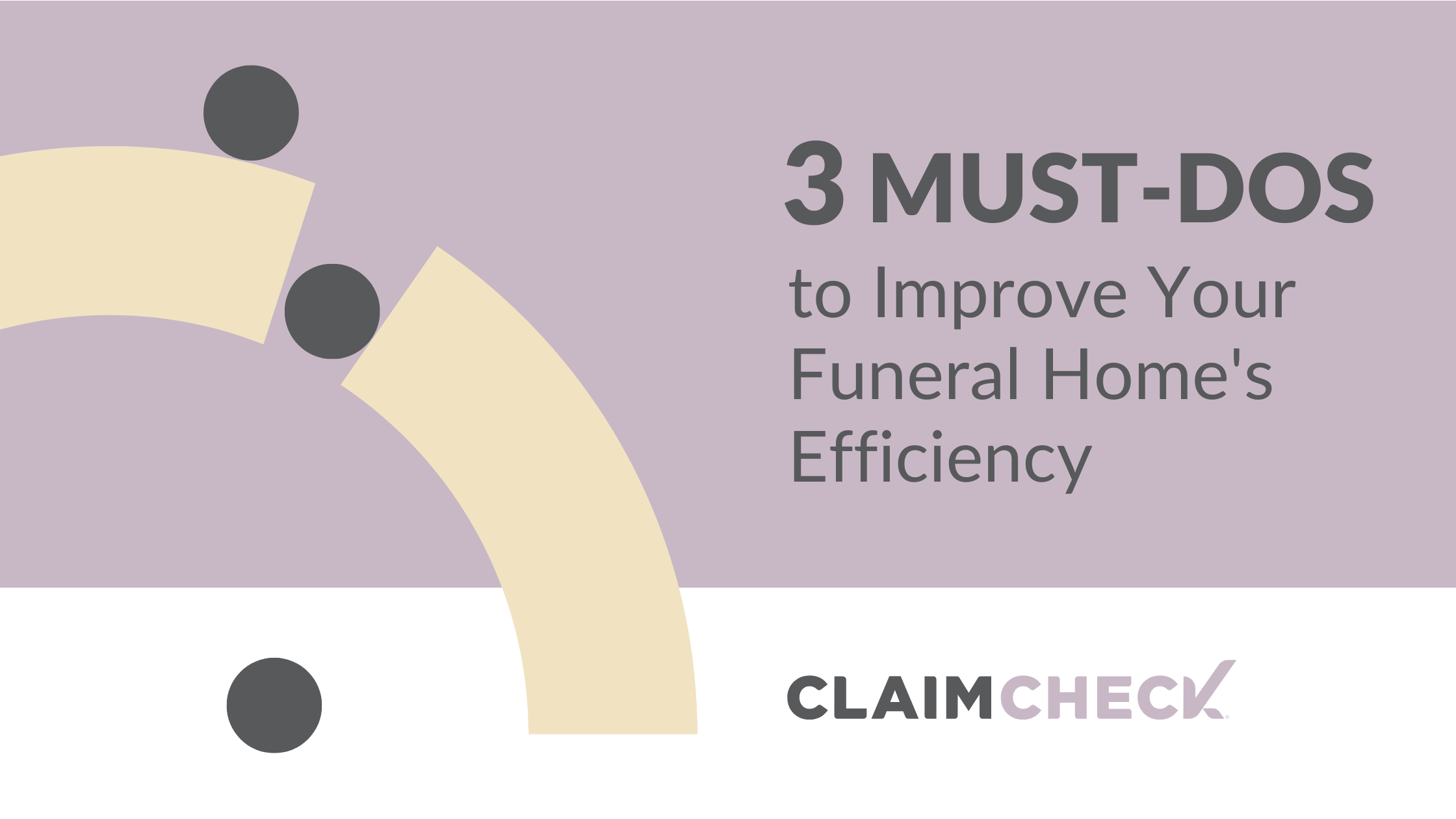 Let's face it. Handling insurance assignments is a hassle. And it can put your funeral home in a tough spot, like our friend Chelsey Ayers with Broussard's Mortuary.
"There

weren't a lot of benefits or positives to handling assignments ourselves, and it wasn't a process we enjoyed.

"Years ago, a family used a policy with an insurance company that did things a little bit differently. We spent so much time on the phone, filling out forms, and waiting for the policy to be processed, only to never receive payment. The insurance company paid out the funds to the family before we could turn in all our forms.

"It turned out to be a waste of time for our staff, and it really put us in a financial bind."
Broussard's Mortuary isn't the only funeral home to be stressed out by assignments. But what if assignments were the easiest part of your job?
What if assignments actually made your funeral home more efficient?
Here are 3 must-dos to increase your funeral home's efficiency with assignments.
1. Partner with a funeral funding company
Processing assignments yourself is risky and time-consuming for your staff.
A funeral funding company makes your job easier so you can stay focused on families. Not all funeral funding partners are the same, so find a company that meets your needs with these features:
Quick and easy funding – Receive payment in days, not months, when you use a funeral funding partner.
Risk-free processing – Use a company that guarantees its verification process and offers 100% risk-free funds.
No death certificate required – Start your assignment immediately

without having to wait

for the death certificate.
The right funeral funding partner will have all these features and more. That way, you'll always feel confident knowing payment is on the way.
2. Choose a funding company that partners with your preneed company
What if you could get your preneed policies funded faster than ever?
Some states like Texas require death certificates before preneed policy claims can be paid, causing delays in your funding and putting a strain on your finances.
But when your funeral funding company works closely with your preneed company, you can get your preneed policy paid within 24 hours.
Now, that sounds like a win!
3. Choose a funding company that partners with your software system
You don't have time to do the same job over and over again – like typing information. That's why funeral home software is so helpful in taking on those repetitive tasks.
Plus, your funeral home software can share information with other parts of your business, like your funeral funding company, saving you time.
Now, imagine how efficient you'd be if your funeral funding company, preneed company, and software system all worked together.
Your funeral home would run like a well-oiled machine!
Did you know the "E" in CLAIMCHECK stands for efficiency? Come see why.
CLAIMCHECK can save you time, lower your stress, and get you paid fast. How? With a little help from our friends and funeral industry leaders Funeral Directors Life Insurance Company (FDL) and Passare.
Here's what we mean:
FDL partnership – Enjoy fast and reliable funding. We process all FDL policies within 24 hours.
Passare integration – Enter information once and let us do the rest. We pull 100% of your case information in Passare for insurance assignments.
And that's just the start! Here are other ways we can serve your funeral home:
Quick and Easy Funding – Rest easy knowing your payment is on the way. More than half of all assignments we receive are funded within 24 hours and 86% are funded within 3 business days.
100% Risk-Free Verification – Submit claims with confidence as we analyze and verify each policy. You'll never have to worry about taking on a bad policy again.
Accessible Specialists – Get quick answers to your questions with our support team. We're always here to answer your questions and concerns.
Increasing your funeral home's efficiency is easy. Call or email us to learn more about how we can make your life easier. Or fill out the form below to see CLAIMCHECK in action!