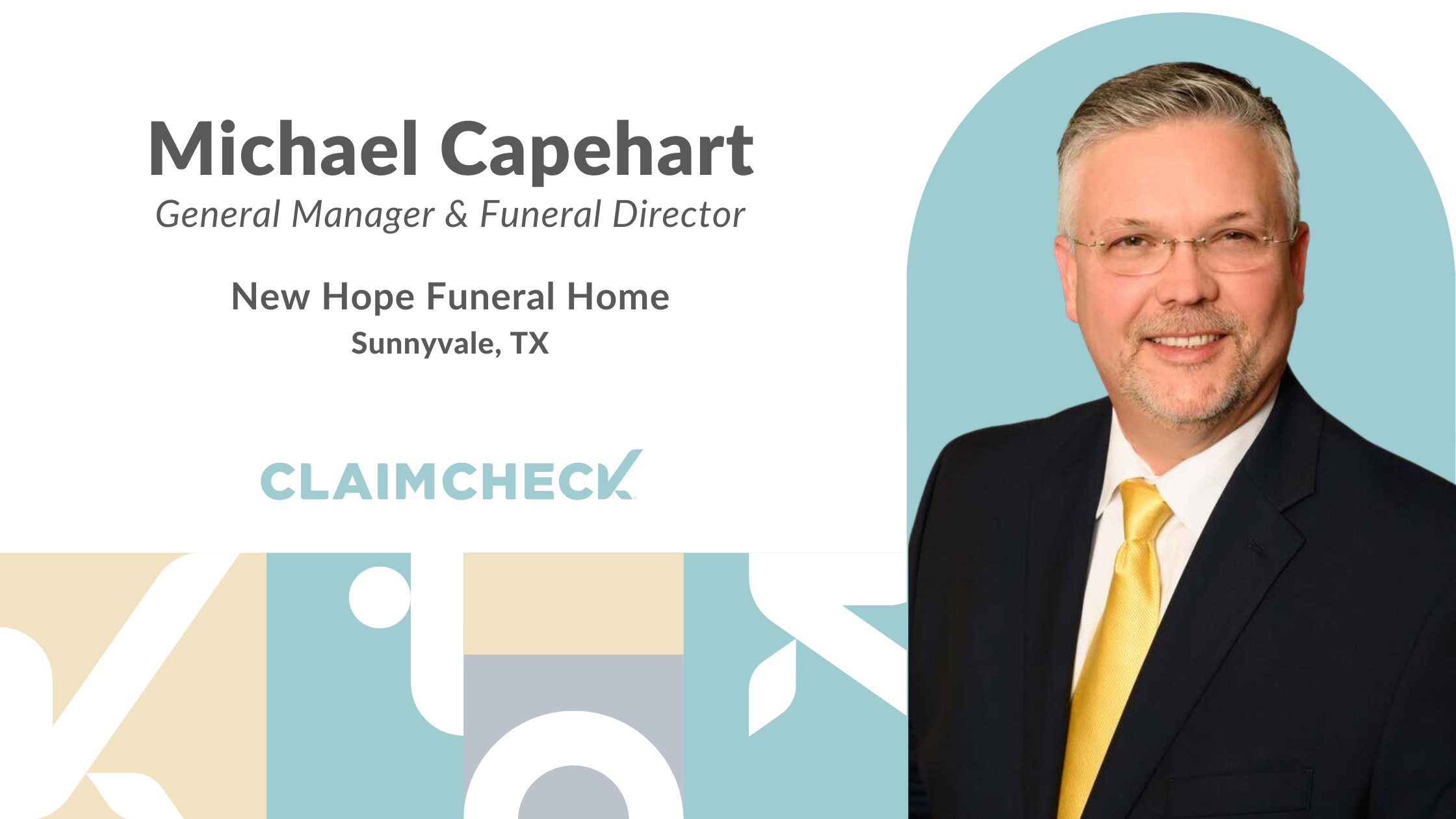 Michael Capehart knew that he and the staff at New Hope Funeral Home needed a faster and easier way to process their life insurance assignments. After trying a couple of insurance processing services over the years, Michael still wasn't satisfied with how much time was spent verifying claims. Neither service provided New Hope Funeral Home's staff with the relief they needed.
Then Michael found out about CLAIMCHECK and its ease of use, helpful customer service team, and software integrations. After using CLAIMCHECK for almost 2 years, Michael can't imagine using any other insurance assignment processing service. According to Michael, letting CLAIMCHECK handle their insurance claims "is just a big sigh of relief. I can't put into words just how nice it is to not have to stress over insurance assignments anymore."
To learn more about Michael's experience with CLAIMCHECK, read more.
How did you first learn about CLAIMCHECK?
We learned about CLAIMCHECK through our implementation with Funeral Directors Life Insurance Company (FDLIC). We found out that FDLIC has a CLAIMCHECK integration and that Passare, which we also use, has an integration with CLAIMCHECK, too. So, we decided to give CLAIMCHECK a shot, and we're very happy we made the change. It's been great, and I have no complaints. It's something that we can take off our plate and not have to worry about because we know CLAIMCHECK is taking care of it.
Did you use an insurance assignment processing service before CLAIMCHECK? What was that experience like?
We used to be a customer of SRS Computing for our client manager. They have an insurance claim component, so we were using them for a while. We didn't have a bad experience with them, but it also wasn't as smooth as CLAIMCHECK. Before that, we used another company, but their process was pretty archaic. We had to fax forms to them, and they had multiple documents that needed signatures. It was just a little bit complicated. So, since we weren't really happy with what we were using for insurance assignments at the time, we wanted to look into CLAIMCHECK.
What was the greatest problem with your insurance assignment process before switching to CLAIMCHECK?
It just wasn't as time efficient as it could be. We had to spend a lot of time either faxing or emailing documents or making phone calls. What we need is an expeditious turnaround. It's difficult to wait weeks for the insurance company to issue a direct deposit or a paper check. Now, we're getting those funds in a matter of 72 hours or so. You can't put a price on the fast turnaround time that CLAIMCHECK provides to get us paid.
What has been the biggest benefit CLAIMCHECK has given you, your staff, and your funeral home?
Oh, the time CLAIMCHECK saves us with their integrations has been great, especially with the Passare integration. The integration with Passare makes things so easy when you can just plug it into the platform and wait for confirmation. It's taken a lot of pressure off us because we can just turn it over to CLAIMCHECK and they can take over from there. We don't have to worry about difficult phone calls, the back and forth, or waiting on hold with insurance companies. We just don't have time to do all that, so it's a priceless commodity because our employees can get other work done.
How did your staff respond to switching to CLAIMCHECK? Has it helped their everyday processes?
Yes, it's been very helpful for our funeral directors. Everyone has a positive opinion of CLAIMCHECK. The nice thing about CLAIMCHECK is that you don't have to be very tech-savvy to use it. We have some funeral directors here that are tech-savvy and some that are not, but everyone benefits from using CLAIMCHECK. Overall, CLAIMCHECK puts our staff in a much better position to spend time on the things that matter.
How has the customer support team been if you guys have a question or problem?
There have been a few times that we've had to reach out. In those instances, we'll usually shoot them an email, and we usually get a response back within an hour or so at the most. It's always a very prompt response. They always do their best to give their absolute best answer. If they don't have an immediate answer, they always tell us that they'll work on finding the answer. We know that we can believe that because CLAIMCHECK has never given us reason to doubt them.
What would you tell another funeral director, professional, or owner about CLAIMCHECK?
I would definitely tell them to go for it. I would say that they should use CLAIMCHECK because it's efficient, easy, and fast. Plus, their customer service is outstanding. I would also highly recommend that they use the companies that integrate with them, too. It really makes things so much easier. CLAIMCHECK checks all the boxes for us!
Ready to learn more about how CLAIMCHECK can help your funeral home?
Fill out the form to request a demo, and one of our representatives will respond as soon as possible. You can also call or email us directly if you prefer. Thanks for visiting CLAIMCHECK. We look forward to serving you.