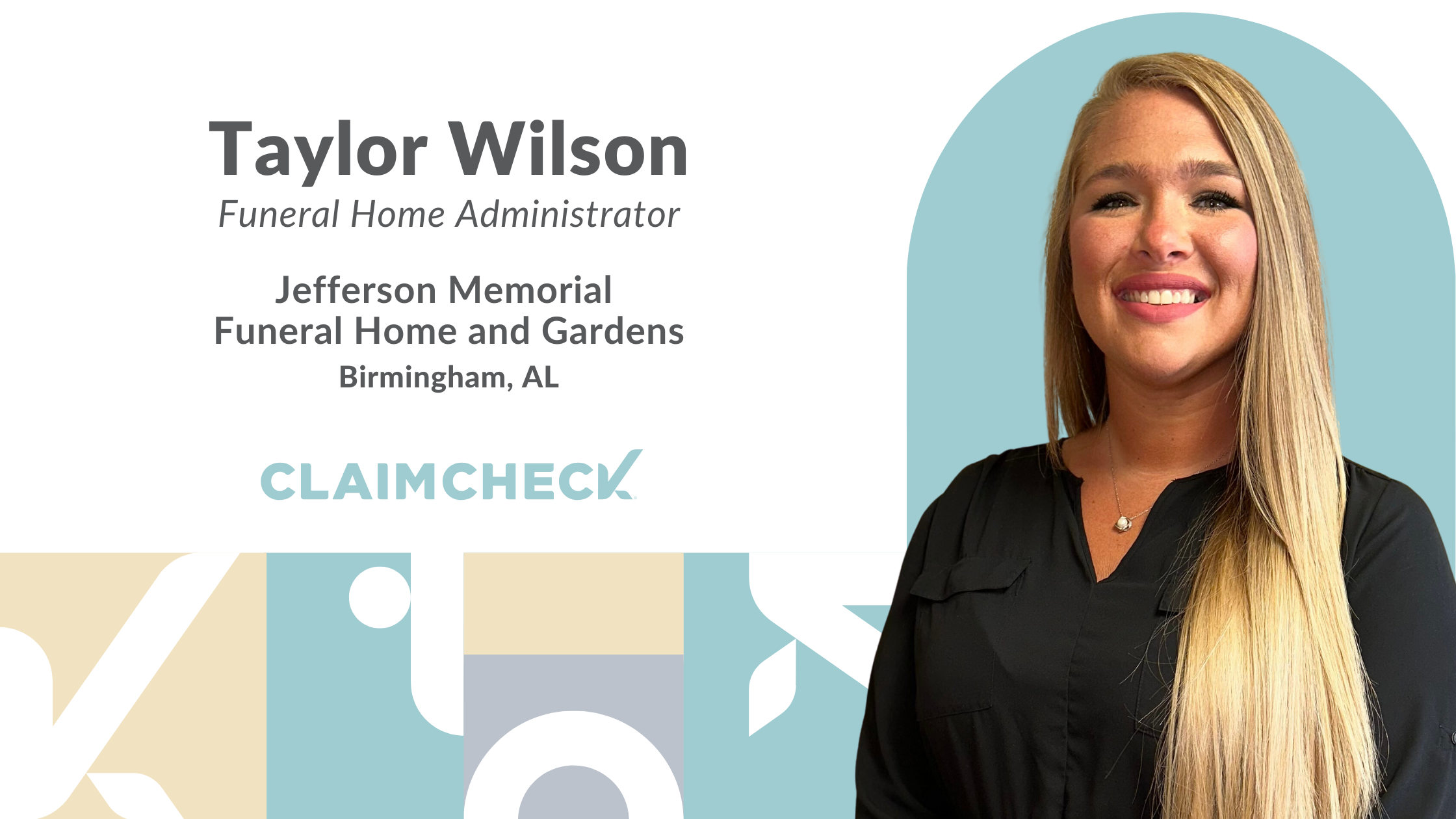 As a funeral home administrator, Taylor Wilson knows how busy a funeral professional's day can get. That's why she's happy to use a funeral funding service that saves her time and stress. With CLAIMCHECK, Jefferson Memorial Funeral Home and Gardens protects its finances, keeps its staff focused on putting families first, and gains peace of mind with a risk-free verification process.
Keep reading to learn how CLAIMCHECK has helped Taylor and her funeral home.
How long has Jefferson Memorial been using CLAIMCHECK to process assignments?
We've used CLAIMCHECK for about 3 years now, and we probably process around 7 assignments a month. I've been with Jefferson Memorial for 3.5 years, and CLAIMCHECK is what I've mainly used to process insurance assignments. I'm very grateful for that. CLAIMCHECK is wonderful and makes the insurance assignment process very easy.
What do you like best about using CLAIMCHECK?
Using CLAIMCHECK is very easy, and their communication is excellent. CLAIMCHECK makes the funeral funding process easy for our funeral home and the families we serve, which is so important. The families we see are going through a hard time, so it's very beneficial to have a service like CLAIMCHECK that can take some of the burden off them.
Have you ever had to process assignments without CLAIMCHECK?
A few times, I had to go through the insurance company to process a family's policy. That process is a lot more difficult than using CLAIMCHECK. The insurance companies require a lot of information and detail, forcing us to spend more time processing the policy than serving the family. It steals our time away if we have to go through the insurance company. Plus, receiving payment for the policy takes longer.
Do you think CLAIMCHECK makes life easier for you and your funeral home?
Funeral professionals are very busy, and we've always got something going on. It's definitely helpful that CLAIMCHECK handles all parts of the assignment process for us. And CLAIMCHECK really helps our accounts receivables by helping us get funded quickly. Our accounts receivables can get backed up when we go through insurance companies. But with CLAIMCHECK, there's no delay in waiting for a check to show up in the mail. And when CLAIMCHECK approves a policy, we know they won't come back and say the policy is unfundable. CLAIMCHECK stays on top of everything very well.
Is your funding turnaround time faster with CLAIMCHECK?
The funding that happens with CLAIMCHECK versus getting funded through insurance companies is unmatched. With CLAIMCHECK, we're usually funded within 2 to 3 days, so we don't have to wait on the money. The funds aren't out there waiting on the insurance company. CLAIMCHECK's funding time is top tier because we can get funded without waiting around.
How would your funeral home be affected if you weren't using CLAIMCHECK to process assignments?
If we didn't use CLAIMCHECK, the families we serve would suffer from it. At Jefferson Memorial, our motto is 'One family at a time.' We do our best to make sure that we're pouring everything into our families so we can help them. So, if we had to spend extra time working on assignments with insurance companies, that would take away from us helping those families. Plus, if we had to work with the insurance companies, that would put a lot more pressure on a family to stay in constant communication with us, which is something we don't want to add to their plate during their time of grief.
In your opinion, what's something that sets CLAIMCHECK apart from other funeral funding companies?
I cannot say enough good things about the customer service with CLAIMCHECK. I use one representative for everything, and she handles all of our needs and questions. I have a great relationship with her, and when she hasn't been available, several other representatives have helped me. Every person I've spoken to at CLAIMCHECK is friendly and eager to help me. They answer my questions in a timely manner and put me at ease. I know customer service can lag at some companies, but not at CLAIMCHECK.
Would you suggest CLAIMCHECK to another funeral professional who needs help processing insurance assignments?
I would definitely tell them that partnering with CLAIMCHECK is very beneficial. CLAIMCHECK can help not only your funeral home but also families, and that's what we're here to do – help families. I wouldn't hesitate to tell anyone that CLAIMCHECK is great at what they do and can take a lot off of your to-do list. Their customer service and funding turnaround time are great, and if you ever have any questions or issues, they're there to keep you informed.
Ready for a funeral funding partner that puts your needs first?
At CLAIMCHECK, our top priority is and always will be making sure our customers are taken care of. Request a demo or fill out the form below to learn more about how we can help you stay focused on serving families and avoid the stress of working with insurance companies.